2 matching images for "|speed|":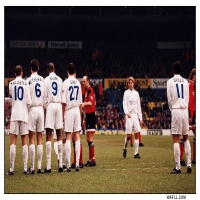 All Walled Up
A United wall here anticipating a Nottingham Forest free-kick in the 1995-96 Premier League clash. McAllister, Wetherall, Deane and Gray make up the United wall with
Speed
in assistance and Brolin looking on. Wilkinson's men lost the game 3-1 with David Wetherall getting the United goal in front of 29,220 fans. Not the best of season's for United as the Whites finished 13th in the league and got beat in the Football League Final 3-0 by Aston Villa.
Leeds United: Lukic, Kelly, Radebe, Palmer, Wetherall, Blunt, A.Gray, Brolin, Deane, McAllister, Speed.
Subs: Harte for Radebe, Rod Wallace for Blunt.
Thanks to William A Dobson for this great pic. If you would like to check out more of Bills pics check out his website here:
WWW.BILLSPICS.CO.UK
Submitted:
04/19/09
Tags:
mcallister
,
speed
,
deane
,
wetherall
,
gray
,
brolin
Comments:
78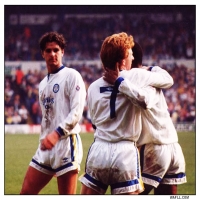 Celebrate Own Goals
Gordon Strachan celebrates the only goal of the game here with Rod Wallace, Gary
Speed
looks on. United were playing Oldham Athletic on October 26th at Elland Road in their Championship winning season of 1991-92. The goal came courtesy of an Oldham Athletic player which gave United the 1-0 victory and kept their undeaten home league record intact. 28,199 fans turned up to watch the Whites keep their title hopes alive.
Leeds United: Lukic, Sterland, Dorigo, Batty, Fairclough, Whyte, Strachan, Rod Wallace, Chapman, McAllister, Speed.
Subs: Kamara for Speed, Shutt for Strachan.
Thanks to William A Dobson for this great pic. If you would like to check out more of Bills pics check out his website here:
WWW.BILLSPICS.CO.UK
Submitted:
04/19/09 (Edited 04/19/09)
Tags:
strachan
,
speed
,
wallace
Comments:
17