1 matching images for "|southstand|":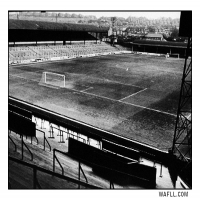 Inside Old Elland Road
A great shot here from the back of the Kop at Elland Road looking down at how Elland Road used to be. At the South of the ground you can see the old Scratching Shed formerly known as The Terrace, in the 1920's this stand was covered with the barrel shaped roof we see in the picture and The Terrace became known as the Scratching Shed. Around the same time the stand to the left of the pitch was built that run along the entire length of the pitch, this stand acquired the name The Lowfields. Both the Lowfields and Scratching Shed are no longer part of Elland Road. The Scratching Shed was pulled down in 1974 and in its place came The South Stand we have today. The Lowfields stand was demolished in 1992 to make way for the East Stand.
Pic comes courtesy of

Click the banner to visit.
Submitted:
03/27/09 (Edited 04/01/09)
Tags:
southstand
,
ellandroad
,
lowfields
,
lowfieldsroad
,
scratchingshed
Comments:
71