1 matching images for "|ridsdale|":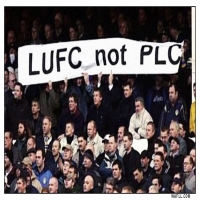 The Business Of Football
The message is loud and clear from these Leeds fans after the mismanagement of the group that took over Leeds United, we want our club back. In 1996 Leeds United were bought by the Caspian Group for £16m beating Conrad to the bid. Shortly after the acquisition the Caspian Group changed their name to the Leeds Sporting PLC. In 2001 the PLC changed its name again to Leeds United PLC. The PLC due to naive decisions, financial blunders and gambles went into administration in 2004. The PLC sold their interest in Leeds United to Adulant Force Ltd headed by Gerald Krasner for £30m. Several weeks after the sale the PLC were liquidated.
Submitted:
03/29/09 (Edited 03/31/09)
Tags:
ridsdale
Comments:
0