1 matching images for "|radebe|":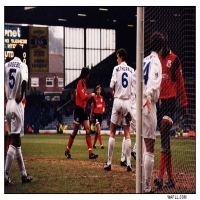 Defend Defend Defend
Lucas Radebe, David Wetherall and Jason Blunt on the post here defend a corner in the Premier League clash with Nottingham Forest at Elland Road on April 8th in the season 1995-96. Wilkinson's men weren't having the best of seasons's and Howard's Boys went down 3-1 to a more determined Forest at home with David Wetherall getting United's goal. 29,220 spectators went down to Elland Road to watch the game with Nottingham Forest.
Leeds United: Lukic, Kelly, Radebe, Palmer, Wetherall, Blunt, A.Gray, Brolin, Deane, McAllister, Speed.
Subs: Harte for Radebe, Rod Wallace for Blunt.
Thanks to William A Dobson for this great pic. If you would like to check out more of Bills pics check out his website here:
WWW.BILLSPICS.CO.UK
Submitted:
04/19/09 (Edited 04/19/09)