1 matching images for "|newsome|":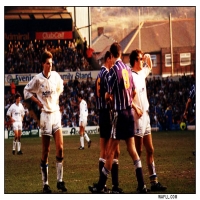 Waiting For Play
David Wetherall the United Centre Back waits for the ball to re-emerge from the crowd here. Jon
Newsome
looks on. United were playing Manchester City at Elland Road on the 13th March in the season 1992-93. Wilkinson's men won the game 1-0 with a goal from David Rocastle in front of 30,840 spectators.
Leeds United: Lukic, Kerslake, Dorigo, Batty, Fairclough, Wetherall, Rocastle, Rod Wallace, Strandli, Hodge, Speed.
Subs: Chapman for Strandli,
Newsome
for Fairclough.
Thanks to William A Dobson for this great pic. If you would like to check out more of Bills pics check out his website here:
WWW.BILLSPICS.CO.UK
Submitted:
04/19/09 (Edited 04/19/09)