2 matching images for "|mcallister|":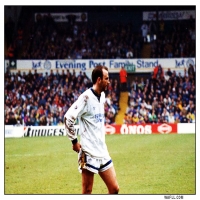 McAllister

Stroll
Gary
McAllister
here off the ball strutting around his area waitng for the action to commence. This pic shot during the Division One game with Chelsea on April 11th, 1992 in the Championship winning season of 1991-92. United won the game 3-0 with goals coming from Cantona, Chapman and Rod Wallace in front of 31,363 fans. United won the league by four clear points over rivals Manchester United and scored 74 goals. This was a special prize for Wilkinson's men as this was the last ever Division One Championship before the Premier League started.
Leeds United: Lukic, Hodge, Dorigo, Batty, Fairclough, Whyte, Strachan, Rod Wallace, Chapman, McAllister.
Subs: Newsome for Hodge, Cantona for Wallace.
Thanks to William A Dobson for this great pic. If you would like to check out more of Bills pics check out his website here:
WWW.BILLSPICS.CO.UK
Submitted:
04/22/09
Tags:
mcallister
Comments:
0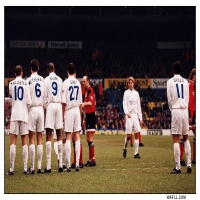 All Walled Up
A United wall here anticipating a Nottingham Forest free-kick in the 1995-96 Premier League clash. McAllister, Wetherall, Deane and Gray make up the United wall with Speed in assistance and Brolin looking on. Wilkinson's men lost the game 3-1 with David Wetherall getting the United goal in front of 29,220 fans. Not the best of season's for United as the Whites finished 13th in the league and got beat in the Football League Final 3-0 by Aston Villa.
Leeds United: Lukic, Kelly, Radebe, Palmer, Wetherall, Blunt, A.Gray, Brolin, Deane, McAllister, Speed.
Subs: Harte for Radebe, Rod Wallace for Blunt.
Thanks to William A Dobson for this great pic. If you would like to check out more of Bills pics check out his website here:
WWW.BILLSPICS.CO.UK
Submitted:
04/19/09
Tags:
mcallister
,
speed
,
deane
,
wetherall
,
gray
,
brolin
Comments:
78