1 matching images for "|jimmyarmflied|":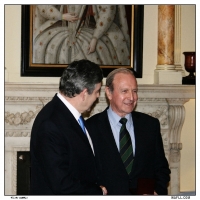 Armfield And Gordon
Jimmy Armfield here shakes the hand of the Prime Minster after he recieved his 1966 World Cup Winners medal.
Before 1974 only the eleven players who played in a World Cup Final recieved a medal. It was in November 2007 that Sepp Blatter announced that all the squad players between 1930 and 1974 that were part of a World Cup winning side should be given the medals that they should by rights have recieved originally. This was a grand gesture that was well recieved and meant that Norman Hunter the Leeds United centre back of Revie's Golden era and also Jimmy Armfield the Leeds United manager from 1974 to 1978 would finally recieve their World Cup medals. This was a justice served for the playing staff but it still overlooked the people who's contributions off the field were essential to any teams success and in England's case it was Sir Alf Ramsey the manager, United's own Les Cocker the team physio and Harold Shepherdson the team trainer. In May, 2009 however the non playing staff also looked set to recieve their medals after it was made known that 14 medals were being minted for each World Cup winning Squad, 11 for playing staff and a further 3 for coaching staff with the final decision on the recipients going to the countries regulating bodies. This meant that almost certainly Les Cocker Leeds United's backroom stalwart of the sixties and seventies would finally recieve his acknowledgement for the vital contributions he made towards England's achievement in 1966.
Les Cocker who died in 1979 did recieve his medal, his son David Cocker accepted the award on his behalf, along with Norman Hunter and Jimmy Armfield. The awards were handed out by Prime Minister Gordon Brown in a ceremony at 10 Downing Street on June 30th, 2009.
Thanks to Dave Cocker for this great pic
Submitted:
08/10/09 (Edited 08/10/09)
Tags:
jimmyarmflied
Comments:
0