1 matching images for "|ferdinand|":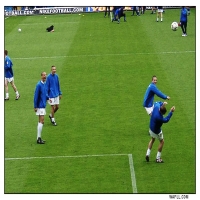 Playing With Balls
Harry Kewell here throws a ball at United midfielder Lee Bowyer during the warm up before the end of season clash with Leicester City in the 2000-01 season. A young Alan Smith and Rio
Ferdinand
look on. It had been a great season for O'Leary's young United side as the team finished 4th in a UEFA Cup qualifying spot and made the Champions League Semi Final with a memorable run that ended at the Mestella Stadium in the 3-0 loss with Valencia. The home clash with Leicester topped off the season as United were easy winners beating Leicester 3-1. Alan Smith netted twice for United with Ian Harte getting the other in front of 39,105 fans.
Leeds United: Martyn, Harte, Dacourt, Viduka, Kewell, Bowyer, Smith, Mills, Bakke, Matteo, Ferdinand.
Subs: Wilcox for Dacourt.
Thanks to William A Dobson for this great pic. If you would like to check out more of Bills pics check out his website here:
WWW.BILLSPICS.CO.UK
Submitted:
04/19/09