2 matching images for "terry connor":
Leeds United 1981-82 No.0133
The season 1981-82 was the first full season in charge for Allan Clarke and after the finish United had had to the last season there was an air of optimism around the camp. That wasn't to last unfortunately as United only won one of their opening ten games and were knocked out at the first stage of the Football League Cup by Ipswich Town at Elland Road. Clarke had broken the bank, gambling most of his War Chest on Peter Barnes who cost the club a then record of 930,000 pounds from Manchester City. As the season progressed it was obvious that was a flutter that Clarke was going to lose. Things didn't improve much in the League and United were knocked out of the FA Cup at the 4th Round stage by Tottenham Hotspur. Clarke had little money to improve affairs and United were relegated to the Second Division winning only 10 games in the League.
Back Row:
Gary Hamson, Brian Greenhoff, John Lukic, Neil Firm, Alex Sabella.
Middle Row:
Geoff Ladley (Physio), Frank Gray, Arthur Graham, Derek Parlane, Paul Hart, Eddie Gray, Kevin Hird, Bob English (Physio), Peter Gunby (Coach).
Front Row:
Martin Wilkinson (Assistant Manager), Byron Stevenson, Trevor Cherry, Allan Clarke (Manager), Brian Flynn,
Terry
Connor, Barry Murphy (Coach).
Submitted:
03/16/11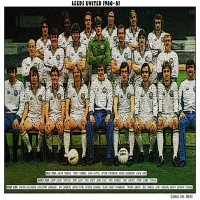 Leeds United 1980-81 No.0130
To the surprise of many fans of the club Jimmy Adamson was still in charge of Leeds United for the start of the 1980-81 season. In an effort to bring creativity to a team that was sadly lacking Adamson brought in Argentine Alex Sabella from Sheffield United for 400,000 pounds. It wasn't to be for Adamson though, a bad start for United prompted the board to act. Adamson was out and into the role stepped Leeds' FA Cup Hero Allan Clarke. By the time Clarke took over Leeds were second from bottom and already out of the League Cup. After a shaky start and a third round exit from the FA Cup at the expense of Coventry City Clarke managed to somewhat turn it round. United won seven of their last 12 games including a famous win at Old Trafford where The Whites beat Manchester United with a solitary Brian Flynn goal. Leeds eventually finished the League in 9th place.
Back Row:
Gwyn Thomas,
Terry
Connor, Alan Curtis, Byron Stevenson, Brian Greenhoff, Kevin Hird.
Middle Row:
Geoff Ladley (Physio), Eddie Gray, Paul Hart, John Lukic, Paul Madeley, Carl Harris, Peter Gunby (Coach).
Front Row:
Martin Wilkinson (Assistant Manager), Jeff Chandler, Brian Flynn, Arthur Graham, Allan Clarke (Manager), Trevor Cherry, Alex Sabella, Gary Hamson, Barry Murphy (Coach)
Submitted:
03/16/11