1 matching images for "terry carling":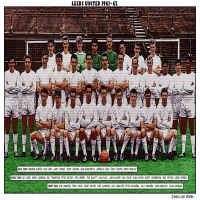 Leeds United 1961-62 No.0086
A disappointing season for player manager Revie and his Leeds side as United finished 19th in division two and came the closest they have ever been at that point from dropping into the third tier of English football. United saved their best away performance of the season for the last game against Newcastle which they won 3-0 and it was this result that saved the Whites from the drop. A splendid performance and a goal from Albert Johanneson helped United to the 3-0 win in front of 21,708 fans, an own goal and one from Billy McAdams made up the other two and secured the points for United. This was also the season that Don Revie changed the United kit from the traditional blue and gold to all white.
Back Row:
Norman Hunter, Mike Addy, Gary Sprake,
Terry
Carling, Alan Humphreys, Grenville Hair,
Terry
Cooper, Barry Wright.
Middle Row:
Alf Jones, Bobby Cameron, E. Thompson, P. Metcalf, Paul Reaney, Tom Hallett, Willie Bell, John Kilford, Eric Smith, Hugh Ryden, Albert Johanneson, Noel Peyton, Gerry Francis.
Front Row:
Rod Johnson,
Terry
Casey, Derek Mayers, Fred Goodwin, Jack Charlton, Peter McConnell, Billy Bremner, John Hawksby, Colin Grainger.
Submitted:
05/28/09 (Edited 03/11/11)