5 matching images for "rod johnson":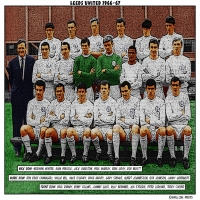 Leeds United 1966-67 No.0095
Another first for Don Revie's Leeds United in the season 1966-67 when The Whites fought their way to the Inter City Fairs Cup final. United eventually lost the final over two legs on goal difference to Croation side Dinamo Zagreb. A record crowd of 57,892 which still stands today at Elland Road saw United beat Sunderland in a FA Cup 5th Round replay and Leeds Marched On to the Semi Final of the competition that season only to be controversially knocked out by Chelsea at Villa Park. Referee K.H. Burns disallowed a perfectly good goal for Leeds, the goal coming from a Johny Giles free-kick who rolled the ball to Peter Lorimer, Lorimer smashed it home but the referee astonishingly ordered the free kick to be taken again because the Chelsea wall was not ten yards from the ball. United finished a decent 4th in the league with a notable 3-1 win over eventual Champions Manchester United at Elland Road with goals from Reaney, Lorimer and Madeley.
Back Row:
Norman Hunter, Alan Peacock, Jack Charlton, Paul Madeley, Eddie Gray,
Rod
Belfitt.
Middle Row:
Don Revie (Manager), Willie Bell, Mike O'Grady, David Harvey, Gary Sprake, Albert Johanesson,
Rod
Johnson, Jimmy Greenhoff.
Front Row:
Paul Reaney, Bobby Collins, Johnny Giles, Billy Bremner, Jim Storrie, Peter Lorimer, Terry Cooper.
Submitted:
03/11/11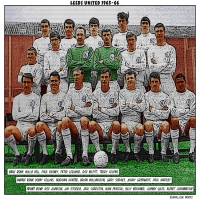 Leeds United 1965-66 No.0092
Another good season for Don Revie's Leeds United. The Whites for the term of 1965-66 again finished runners up in the First Division and for the first time in the club's history the team made an appearance in Europe. United qualified for the Inter Cities Fairs Cup and reached the Semi Final stage at the first time of asking only to go out over two legs and a replay to the Spanish side Real Zaragoza. Good performances in the League including a 1-0 victory over eventual Champions Liverpool on their home turf highlighted another commendable season for Don Revie's men. Leeds finished on 55 points scoring 79 goals.
Back Row:
Willie Bell, Paul Reaney, Peter Lorimer,
Rod
Belfitt, Terry Cooper.
Middle Row:
Bobby Collins, Norman Hunter, Brian Williamson, Gary Sprake, Jimmy Greenhoff, Paul Madeley.
Front Row:
Rod
Johnson, Jim Storrie, Jack Charlton, Alan Peacock, Billy Bremner, Johnny Giles, Albert Johanneson.
Submitted:
03/10/11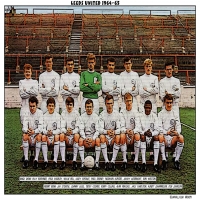 Leeds United 1964-65 No.0091
So close for Leeds but what a first season back as Don Revie's men finished joint top in the First Division coming runners up in the league on just goal difference and for the first time in the clubs history The Whites reached the final of the FA Cup. Some remarkable performances highlighted the term for Leeds including a 1-0 win over eventual winners Manchester United on their home turf and knocking them out of the FA Cup at the Semi Final stage. The message was clear Don Revie's United were Back. Leeds finished on 61 points, losing only seven games and scored 83 goals.
Back Row:
Billy Bremner, Paul Madeley, Willie Bell, Gary Sprake, Paul Reaney, Norman Hunter, Jimmy Greenhoff, Don Weston.
Front Row:
Jim Storrie, Johnny Giles, Terry Cooper, Bobby Collins, Alan Peacock, Jack Charlton, Albert Johanneson,
Rod
Johnson.
Submitted:
03/10/11 (Edited 03/10/11)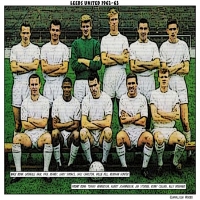 Leeds United 1962-63 No.0088
Don Revie's second season in charge at Elland Road and so close to success as United finished fifth in Division Two just four points off second spot and promotion. It was the introduction of the new blood at Elland Road that made all the difference. After United lost three of their opening six games Revie brought in a bunch of youngsters, it was sooner than Revie wanted but it proved a master stroke. For the game against Swansea Paul Reaney,
Rod
Johnson
who were both just 17 and Norman Hunter who was 18 all made their debuts. Gary Sprake who had played in only one previous also played. Leeds won the game 2.0. Four games later and Peter Lorimer became the youngest player in Leeds United's history at 15 years, 289 days old. United finished fifth on 48 points doing the double over eventual Champions Stoke City.
Back Row:
Grenville Hair, Paul Reaney, Gary Sprake, Jack Charlton, Willie Bell, Norman Hunter.
Front Row:
Tommy Henderson, Albert Johanneson, Jim Storrie, Bobby Collins, Billy Bremner.
Submitted:
03/10/11 (Edited 03/10/11)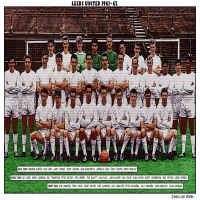 Leeds United 1961-62 No.0086
A disappointing season for player manager Revie and his Leeds side as United finished 19th in division two and came the closest they have ever been at that point from dropping into the third tier of English football. United saved their best away performance of the season for the last game against Newcastle which they won 3-0 and it was this result that saved the Whites from the drop. A splendid performance and a goal from Albert Johanneson helped United to the 3-0 win in front of 21,708 fans, an own goal and one from Billy McAdams made up the other two and secured the points for United. This was also the season that Don Revie changed the United kit from the traditional blue and gold to all white.
Back Row:
Norman Hunter, Mike Addy, Gary Sprake, Terry Carling, Alan Humphreys, Grenville Hair, Terry Cooper, Barry Wright.
Middle Row:
Alf Jones, Bobby Cameron, E. Thompson, P. Metcalf, Paul Reaney, Tom Hallett, Willie Bell, John Kilford, Eric Smith, Hugh Ryden, Albert Johanneson, Noel Peyton, Gerry Francis.
Front Row:
Rod
Johnson, Terry Casey, Derek Mayers, Fred Goodwin, Jack Charlton, Peter McConnell, Billy Bremner, John Hawksby, Colin Grainger.
Submitted:
05/28/09 (Edited 03/11/11)