4 matching images for "noel whelan":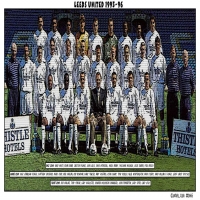 Leeds United 1995-96 No.0165
For the season 1995-96 and it was a big improvement in the Cups for Wilkinson's United. In the UEFA Cup and it was a spectacular Tony Yeboah hat-trick at the Stade Louis II stadium against AS Monaco that put Leeds through to the second round of the competition. United lost the home leg 1-0 but went through 3-1 on aggregate. In the second round and Leeds were knocked out easily over two legs by PSV Eindhoven. In the FA Cup and Leeds made it to the Quarter Final where they met Liverpool at Elland Road, a 0-0 draw at home set up a replay at Anfield where United were eventually beaten 3-0. Just four days after the FA Cup exit United met Aston Villa at Wembley for the Final of the Football League Cup. It was only the second time in the clubs history that the team had reached the Final of the competition, the first time saw United victor's after a Terry Cooper goal sealed a 1-0 win over Arsenal. Second time around though for Leeds it wasn't to be as Wilkinson's men just didn't turn up and United were beaten 3-0. A bad time of it in the League Campaign for United saw the team finish in 13th position. Leeds only won 12 games all season and managed only 43 points, scoring 40 goals.
Back Row:
David White, Brian Deane, Carlton Palmer, John Lukic, David Wetherall, Mark Beeney, Philomen Masinga, Lucas Radebe, Paul Beesley.
Middle Row:
Mick Hennigan (Coach), Matthew Smithard, Mark Ford,
Noel
Whelan, Rob Bowman, Mark Tinkler, Andy Couzens, Kevin Sharp, Tony Dorigo, Nigel Worthington, David O'Leary, David Williams (Coach), Geoff Ladley (Physio).
Front Row:
Rod Wallace, Tony Yeboah, Gary McAllister, Howard Wilkinson (Manager), John Pemberton, Gary Speed, Gary Kelly.
Submitted:
03/27/11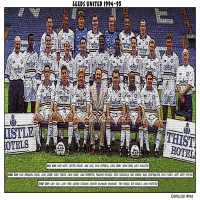 Leeds United 1994-95 No.0163
Wilkinson made some significant buys for 1994-95, The Chief Lucas Radebe made the trip from the South African outfit Kaizer Chiefs for 250,000 pounds and also mid season Tony Yeboah was acquired, coming from Eintracht Frankfurt for 3.4M. An early exit in the Football League Cup where United lost to Mansfield Town over two legs was followed by an improvement in the FA Cup. Leeds reached the fifth round but lost the game to the current cup holder's Manchester United 3-1 at Old Trafford. Tony Yeboah getting the one for Leeds, his first goal for The Whites coming in the game against the Salford outfit. In the League and it was business as usual for Wilkinson's men as they finished fifth and qualified for the UEFA Cup. A great finish to the campaign saw Leeds lose only once in their last 13 games, winning nine. United finished on 73 points, winning 20 and scoring 59 goals.
Back Row:
David White, Carlton Palmer, John Lukic, David Wetherall, Mark Beeney, Brian Deane, Gary McAllister.
Middle Row:
Mick Hennigan (Coach), Lucas Radebe, Mark Tinkler, Kevin Sharp, John Pemberton, Philomen Masinga, Chris Fairclough,
Noel
Whelan, Nigel Worthington, David O'Leary, Geoff Ladley (Physio).
Front Row:
Gary Kelly, Gary Speed, Gordon Strachan, Howard Wilkinson (Manager), Tony Dorigo, Rod Wallace, Jamie Forrester.
Submitted:
03/26/11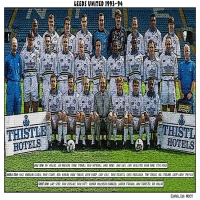 Leeds United 1993-94 No. 0161
Early exits again for Wilkinson's Leeds United in the season of 1993-94. In the Football League Cup and United were knocked out at the Second Round stage by Sunderland over two legs. United went down 2-1 in both legs, in the first leg at Roker Park Gary Speed netted the Leeds goal and for the second leg at Elland Road it was
Noel
Whelan
that delivered the single goal for The Whites. In the 3rd Round of the FA Cup United beat Crewe Alexandra 3-1 at Elland Road, a goal from Brian Deane and two from Jamie Forrester gave United a fourth Round ticket but progression was soon halted, Leeds lost the next tie after a replay against Oxford United. Leeds drew the game at the Manor Ground 2-2, a goal each from David Wetherall and Gary Speed secured the replay only for United to lose 3-2 at Elland Road, David White and Gordon Strachan bagging the goals for Leeds. In the League though it was a vast 5th place improvement for United with The Whites scoring four or more in a game no less than four times, including a last match 5.0 thrashing away at Swindon, with goals from David White, Chris Fairclough, Rod Wallace and Brian Deane scoring two, this rounded up a reasonable effort in the League. Wilkinson's men finished the campaign on 70 points, winning 18 and scoring 65 goals.
Back Row:
Ray Wallace, Jon Newsome, Frank Strandli, David Wetherall, Mark Beeney, John Lukic, Gary McAllister, Brian Deane, Steve Hodge.
Middle Row:
Mick Hennigan (Coach), David O'Leary,
Noel
Whelan, Mark Tinkler, Kevin Sharp, Gary Kelly, David Rocastle, Chris Fairclough, Tony Dorigo, Mel Sterland, Geoff Ladley (Physio).
Front Row:
Gary Speed, David Kerslake, David Batty, Howard Wilkinson (Manager), Gordon Strachan, Jamie Forrester, Rod Wallace.
Thanks To:
Tony Hill for the original pic and helping with the squad names.
Submitted:
03/24/11 (Edited 03/24/11)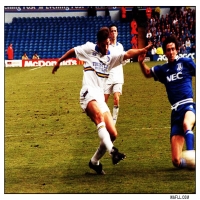 A White Substitution
David White has a shot on goal here in the game against Everton with Gary Kelly looking on, the game was played at Elland Road on 30th April, 1994 during the season 1993-94 in front of 35,487 fans. David White replaced
Noel
Whelan
during the game and scored one of the three which gave United victory over the Liverpool side. One of the other two came courtesy of an own goal and Gary McAllister bagged the other. Howard Wilkinson's men finished fifth that season just missing out on UEFA Cup qualification just one point behind Liverpool.
Leeds United: Lukic, Kelly, Sharp, Wetherhall, O'Leary, Fairclough, Strachan, McAllister, Whelan, Rod Wallace, Speed.
Subs: White for Whelan, Tinkler for Rod Wallace.
Thanks to William A Dobson for this great pic. If you would like to check out more of Bills pics check out his website here:
WWW.BILLSPICS.CO.UK
Submitted:
04/30/09 (Edited 04/30/09)