1 matching images for "nigel davey":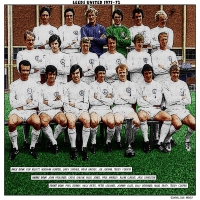 Leeds United 1971-72 No.0107
Due to crowd trouble, following the WBA farce of the previous season, Leeds were forced to play the opening four games of the 1971-72 campaign on neutral grounds. This didn't affect the Leeds campaign who yet again put in a solid season finishing in second place. It could have been a different story if the FA hadn't been so uncompromising. Leeds had to play Wolves just two days after thier FA Cup final appearance against Arsenal. It was Leeds United's third appearance in the FA Cup final that would at last produce the cup. Allan Clarke headed home from a Mick Jones cross to score, giving Leeds a 1-0 win over Arsenal. With an early departure from Europe and the League Cup it was the centenary FA Cup final that gave Leeds fans cause to celebrate that season. Not to mention one bit of televison history. Barry Davies who on Match Of The Day commentated, on one of the most repeated open play sequences ever seen on the programme. "To say that Leeds are playing with Southampton is the understatement of the season, poor old Southampton just don't know what day it is. Every man jack of this Leeds side is now turning it on, it's almost cruel". On the 4th of March 1972 Leeds beat Sothampton 7-0 at Elland Road. It wasn't just the score, but the way Leeds achieved this win, that makes it so memorable.
Back Row:
Rod Belfitt, Norman Hunter, Gary Sprake, David Harvey, Joe Jordan, Terry Yorath.
Middle Row:
John Faulkner, Chris Galvin, Mick Jones, Paul Madeley, Allan Clarke, Jack Charlton.
Front Row:
Paul Reaney, Mick Bates, Peter Lorimer, Johnny Giles, Billy Bremner,
Nigel
Davey, Terry Cooper.
Submitted:
03/13/11 (Edited 03/19/11)