1 matching images for "les goldberg":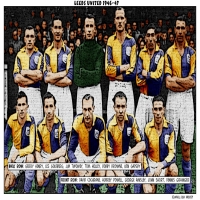 Leeds United 1946-47 No.0059
1946-47 was a bad season for Leeds United and manager Billy Hampson as his Leeds team were relegated in one of the clubs worst season's ever. United earned only 18 points all season and conceded 90 goals in the process finishing bottom of the First Division seven points behind their nearest rivals. Hampson was demoted to chief scout before the season end ruing the decision to stick with his Pre-War youngsters.
Back Row:
Gerry Henry,
Les
Goldberg, Jim Twomey, Tom Holley, Bobby Browne, Ken Gadsby.
Front Row:
David Cochrane, Aubrey Powell, George Ainsley, John Short, Dennis Grainger.
Submitted:
03/08/11