2 matching images for "billy heaton":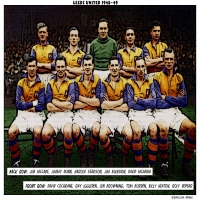 Leeds United 1948-49 No.0062
The season 1948-49 wasn't exactly a success for the new manager Major Frank Buckley as United finished 15th in Division Two. It was though an improvement on the previous season and some fans saw it as a turning point. The new manager first set about clearing out most of the old playing staff and brought in new talent including a young John Charles. Buckley also during the season developed a good youth policy at the club. Notable wins for this term included a 6-3 victory over Yorkshire rivals Grimsby Town and 4-1 win's over Coventry City and Barnsley.
Back Row:
Jim McCabe, Jimmy Dunn, Harold Searson, Jim Milburn, David McAdam.
Front Row:
David Cochrane, Ray Iggleden, Len Browning, Tom Burden,
Billy
Heaton, Roly Depear.
Submitted:
03/09/11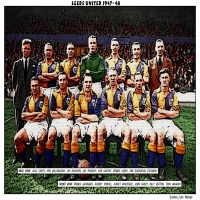 Leeds United 1947-48 No.0060
For the season 1947-48 confidence at Elland Road was at an all time low, Willis Edwards one of United's most loyal servants took the reigns after the demotion of
Billy
Hampson but the Leeds stalwart just didn't have the experience for the role. Form for that season marginally improved with some impressive performances. At home a 5-0 win over Plymouth Argyle in early September improved spirits at the Elland Road camp but United would win only once in their next seven games. The manager worked hard with his team and United avoided the drop with Leeds finishing in a lowly 18th place.
Back Row:
Jack Smith, Ken Willingham, Jim Milburn, Jim Twomey, Ken Gadsby, Dennis Kirby, Bob Roxburgh (Trainer).
Front Row:
Dennis Grainger, Aubrey Powell, Albert Wakefield, John Short,
Billy
Heaton, Tony Ingham.
Submitted:
03/08/11 (Edited 03/08/11)