1 matching images for "|vinniejones|":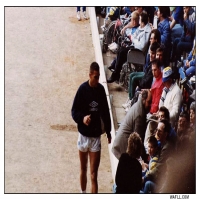 One Side Of Vinnie Jones
Vinnie Jones here on his pre-match ritual of meeting the disabled supporters and members of LUDO at the North side of the West Stand Elland Road. Vinnie Jones would make a point of doing this before every home game. Notorious for being the bad boy of football this is the one side of Vinnie the football media always leave out. Wilkinson signed Vinne Jones in June 1989 from Wimbledon for £650,000 to bulk up his midfield for United's promo' bid. Jones made 43 apppearances in the league for the Whites in the promotion season of 1989-90 and he made a significant contribution to the push scoring 5 times in the league and never recieving a red card. After United won promotion Wilkinson felt Vinnie had done the job he was bought for and sold him to Sheffield United in September 1990 for £700,000.
Thanks to William A Dobson for this great pic. If you would like to check out more of Bills pics check out his website here:
WWW.BILLSPICS.CO.UK
Submitted:
04/19/09 (Edited 04/19/09)
Tags:
vinniejones
,
jonesvinnie
Comments:
53