1 matching images for "|taylorreport|":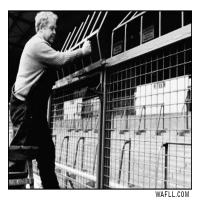 Don't Take A Fence
A workman here taking down the fencing from the Kop perimeter at Elland Road. In the late 1970's serious crowd trouble at Elland Road, in particular a pitch invasion during the 1978 FA Cup clash with Manchester City prompted the board at Elland Road to erect fences around the stands boundary wall. The fences remained in place until the tragedy at Hillsborough in 1989 which forced an enquiry into the cause of the tragedy. The finalised Taylor Report was published in 1990. The Taylor Report is a document of recommendations which include the removal of crush barriers and fences around the front of stands.
Pic comes courtesy of

Click the banner to visit.
Submitted:
03/27/09 (Edited 04/01/09)
Tags:
taylorreport
Comments:
1