1 matching images for "|memorialstadium|":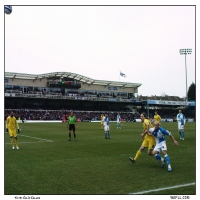 Becchio Tangle
Luciano Becchio here in a tangle with the Bristol Rovers opposition at the Memorial Stadium, Jermaine Beckford looks on. United were playing Bristol Rovers in a First Division clash played on March 7th, 2008. The game ended in a 2-2 draw after United dominated most of the play. A win for Grayson's men looked almost certain with Leeds taking a 2-1 lead right up until the final minute but Bristol Rovers sneaked an undeserved equaliser in the 90th minute. Luciano Becchio and Robert Snodgrass were the Leeds scorers in front of 10,293 at the Memorial with just under 2,000 fans cheering for the men in yellow as the White Army sold out their allocation again.
Leeds United:
Ankergren, Douglas, Marques, Naylor, Parker, Snodgrass, Kilkenny, Howson, Delph, Becchio, Beckford.
Subs:
Prutton for Kilkenny.
Thanks to Colin Callow for this great pic.
Submitted:
07/25/09 (Edited 07/25/09)
Tags:
memorialstadium
Comments:
0