4 matching images for "|lorimer|":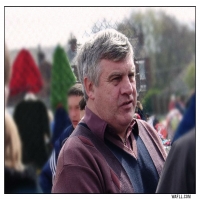 A

Lorimer

Chat
Peter
Lorimer
here the Leeds United Hotshot chats with fans at a charity football match in Ferrybridge. Don Revie signed Peter
Lorimer
in May 1962 for a fee of £25,000.
Lorimer
aged just 15 came from the schoolboy side Stobswell and made his debut for United when he was just 15 years old.
Lorimer
had two spells with United the first under manager Don Revie. Under Revie
Lorimer
made 616 appearances for the Whites in all competitions between 1963 to 1979 and scored 219 goals. In his second spell manager Eddie Gray brought him from UCD (University College Dublin AFC), he made another 76 appearances in all competitions for United between 1984 to 1985 and scored 19 goals. Peter 'Hot Shot'
Lorimer
is Leeds United's all time goal scoring record holder with 238 goals.
Thanks to William A Dobson for this great pic. If you would like to check out more of Bills pics check out his website here:
WWW.BILLSPICS.CO.UK
Submitted:
04/22/09 (Edited 05/29/09)
Tags:
lorimer
Comments:
3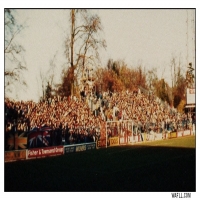 Filling The Manor
The following Leeds United faithful here at the Manor Ground in the first half of the 1984-85 season. Gray's men were easily beat that day 5-2 with Tommy Wright and Peter
Lorimer
getting the Leeds goals, the crowd for the Oxford clash was 12,192 with the Leeds fans filling their allocation and more. This season would also prove to be the last season in charge for Eddie Gray as Leeds United manager. United failed to make the Play Off places after they were beat on the last game of the season against Birmingham. Gray's young side had the potential but the Leeds United board didn't have the patience.
Leeds United: Harvey, Irwin, Hamson, Sellars, Linighan, Dickinson, Wright, Sheridan, Ritchie, Lorimer, F.Gray.
Subs: Gavin for Sellars
Submitted:
04/02/09 (Edited 05/08/09)
Tags:
manorground
,
eddiegray
,
lorimer
Comments:
17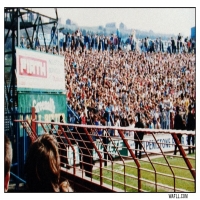 From The Terrace
A view here at the travelling Leeds United army from The Terrace the popular home stand at Huddersfield Town's ground Leeds Road. This second division clash coming early in the 1985-86 season. It was an indifferent start to the season for United. Bremners first season in charge for the Whites and up until the Huddersfield encounter at Leeds Road United had won three, drawn four and lost three. The stats didn't improve for the Whites as they went down 3-1 with Ian Baird scoring for Leeds. United went on to finish 14th that season but won the home affair with Huddersfield 2-0 with goals from Ormsby and Snodin.
Leeds United: Day, Irwin Phelan, I.Snodin, Linighan, Dickinson, Wright, Sheridan, Baird, Lorimer, Sellars.
Subs: McCluskey for Sellars
Submitted:
04/01/09
Tags:
baird
,
sellars
,
snodin
,
lorimer
,
leedsroad
Comments:
14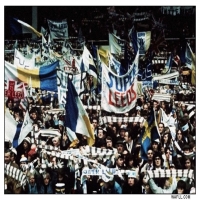 Seventy Three Support
The Leeds united End packed to the rafters at Wembley during the 1973 FA Cup Final with Sunderland. Leeds lost the final by a single goal scored after 31 mins and if it wasn't for a rare performance by Jimmy Montgomery the Sunderland keeper Leeds would have retained the Cup. Defying Super Leeds with an amazing string of saves and one in particular a 10 yard effort from Peter
Lorimer
that is compared to the save made by Banks for England against the Pele header in the 1970 World Cup stage game with Brazil.
Leeds Team: Harvey, Reaney, Cherry, Bremner, Madeley, Hunter, Lorimer, Clarke, Jones, Giles, E.Gray
sub: Yorath for E.Gray
Submitted:
03/28/09 (Edited 03/31/09)
Tags:
wembley
,
leeds
,
lorimer
,
revie
Comments:
4