1 matching images for "|hodge|":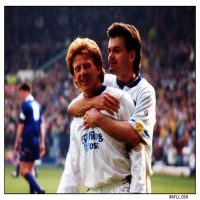 Hodge

And Strachan Delight
Steve
Hodge
the United midfielder and captain Gordon Strachan celebrate the third goal which rounded a 3-0 victory over Chelsea at Elland Road on April 11th, season 1991-92. The win kept United in the hunt for the title in only their second season back to the top flight. Cantona, Chapman and Rod Wallace got the goals for United in front of a 31,363 crowd. United went on to win the Championship beating Manchester United by four points and scoring 74 goals in the process. Leeds were only beaten 4 times the whole season.
Leeds United: Lukic, Hodge, Dorigo, Batty, Fairclough, Whyte, Strachan, Rod Wallace, Chapman, McAllister.
Subs: Newsome for Hodge, Cantona for Wallace.
Thanks to William A Dobson for this great pic. If you would like to check out more of Bills pics check out his website here:
WWW.BILLSPICS.CO.UK
Submitted:
04/19/09 (Edited 04/20/09)
Tags:
strachan
,
hodge
Comments:
50