1 matching images for "|goldstoneground|":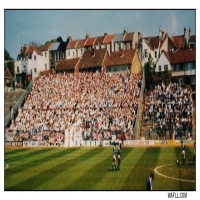 Goldstone Stuffed
A great shot here of the United following at the Goldstone Ground during the game with Brighton and Hove Albion in the season 1986-87. This the last game of the season saw Leeds United win 1-0, the result meant Leeds United would qualify for the Second Division Play Offs, the result also saw Brighton relegated to division three. A great second season in charge for Billy Bremner, he also managed to stear his Leeds Utd team to the Semi Final of the FA Cup earlier in the term. Keith Edwards scored the Leeds goal in front of 8,139 supporters. As the pic shows a large following for the Whites that day, selling out their ticket allocation with fans spilling over into the segregation and more.
Leeds Team: Day, Aspin, McDonald, Haddock, Ashurst, Ormsby, Stiles, Sheridan, Pearson, Baird, Adams.
Subs: Edwards for Pearson
Submitted:
03/31/09 (Edited 03/31/09)
Tags:
goldstoneground
Comments:
0