1 matching images for "|diamondlights|":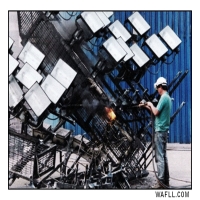 Bye Bye Diamonds
One of the famous diamond floodlights here getting stripped down and disassembled. When in place the floodlights were an enormous 260ft tall and each light housed 55 lamps. The floodlights came down shortly after the East Stand was built in the early 1990's. The diamond floodlights were replaced with new individual lights that run along the roof line of the stands. Many clubs have now taken their floodlights down. Leeds United were one of the first clubs to put the new method of stadium lighting into practice in the UK.
Pic comes courtesy of

Click the banner to visit.
Submitted:
03/26/09 (Edited 04/01/09)
Tags:
diamondlights
,
diamondfloodlights
Comments:
0